Product Description
You can order your entire budget kilt outfit from this page!
The Value kilt with sporran, socks & flashes is our least expensive kilt outfit for those just starting out exploring their Scottish roots. This basic outfit includes a poly/viscous kilt (price depends on your measurements; see below) available in 56 tartans, AZD sporran ($40.00), sporran chain ($14.50), solid knit hose ($24.50), flashes ($9.95). You supply your own shoes and shirt.
Your kilt price will depending on your measurements according to these size ranges.
(4yd kilt; hips up to 37")
(5yd kilt; hips 38-47") $20.00 will be added automatically
(6yd kilt; hips 48-55") $40.00 will be added automatically
(7 yd kilt; hips 56-64") $50.00 will be added automatically
(8yd kilt; hips 65-70") $60.00 will be added automatically
These package prices do not include shipping. Call us toll free at 1-800-426-7268 or email us at admin@jhiggins.net if you have any questions!
We want to introduce you to Drum Major Jason Paguio. Jason is a 5 time World Drum Major Champion. Here he is at the 2016 World Championship wearing his J. Higgins Napier kilt and Class A Honor Guard jacket. We were truly honored to tailor Jason's kilt and jacket. Jason tells us his outfit was the only one with zero dress fault deductions in the contest.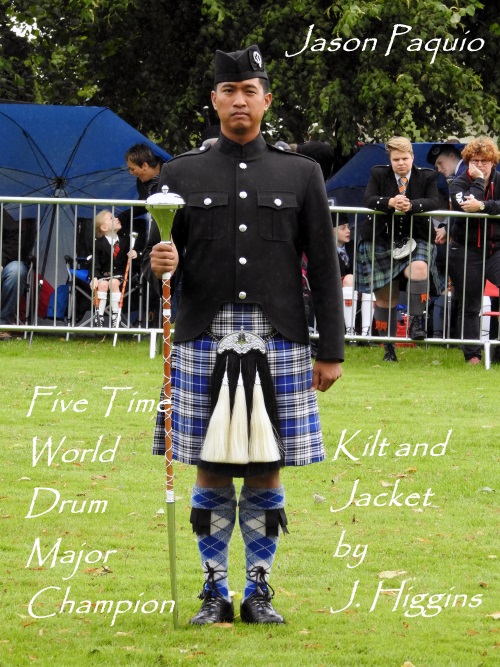 Take a look at our blog about Creating Your Kilt Outfit from Scratch: https://www.jhiggins.net/blog/creating-your-kilt-outfit-from-scratch/
Find Similar Products by Category
Customers also viewed